Michigan Road Map
---
The scalable Michigan map on this page shows the state's major roads and highways as well as its counties and cities, including Lansing, the state capital, and Detroit, the most populous city.
Beautiful Autumn Colors along a Michigan Roadway
Michigan Map Navigation
To display the map in full-screen mode, click or touch the full screen button. To zoom in on the Michigan state road map, click or touch the plus (+) button; to zoom out, click or touch the minus (-) button. To scroll or pan the zoomed-in map, either (1) use the scroll bars or (2) simply swipe or drag the map in any direction. (The scrolling or panning method you use will depend on your device and browser capabilities.) At any time, you can display the entire Michigan road map in a new window or print this page, including the visible portion of the map.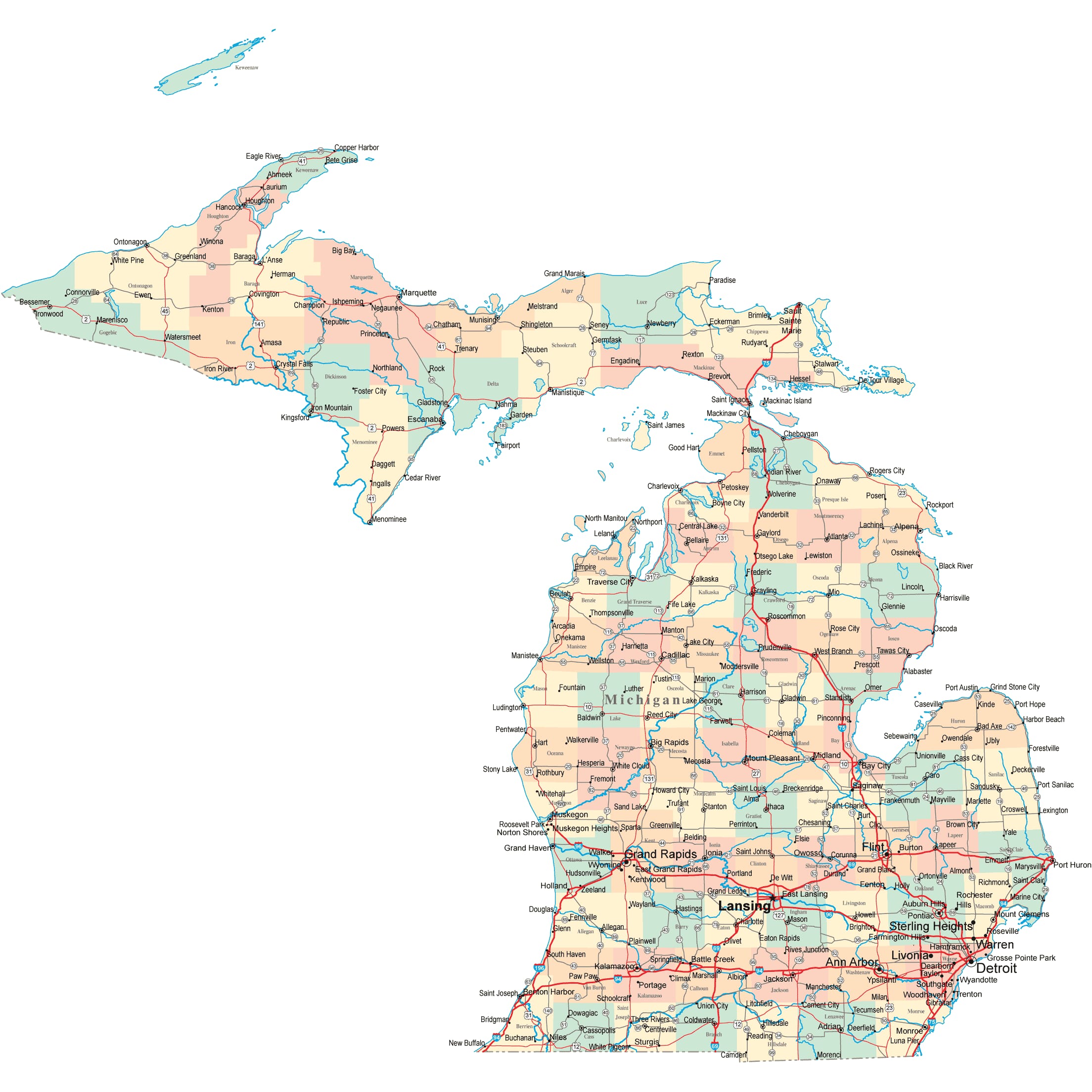 The following Map Legend and Scale of Miles apply to the road map on this page, at its largest displayed scale.
Michigan Map Legend
Michigan Map Scale Of Miles
Michigan Interstate Highways
Michigan's primary Interstate Highways connect its major cities and facilitate travel between Michigan and its neighbors. I-69 arcs around southeastern Michigan, between the Ontario border and the Indiana border. I-75 traverses eastern Michigan from north to south, while I-94 crosses southern Michigan from east to west. I-96 connects the cities of Detroit, Lansing, and Grand Rapids.
Michigan's auxiliary Interstate Highways serve the state's metropolitan areas. I-194 connects Battle Creek with I-94. I-196 links I-96 in Grand Rapids with I-94 near Benton Harbor. I-275 connects I-75 with the western suburbs of Detroit. I-375 is a short feeder highway that provides easy access to downtown Detroit. I-475 provides convenient access to downtown Flint from I-75 and I-69. I-496 connects downtown Lansing with I-96. I-675 connects downtown Saginaw with I-75. I-696 serves the northern suburbs of Detroit.
Michigan Scenic Routes
Michigan's Lower Peninsula and Upper Peninsula are connected by the soaring Mackinac Bridge. One way to enjoy some of what the state has to offer is to take a 320-mile road trip along the eastern shores of Lake Michigan from the fishing port of Ludington to Mackinaw City. Travelers will enjoy uninterrupted coastal views from Point Betsie Lighthouse and a 71,000-acre nature preserve at Sleeping Bear Dunes National Lakeshore. Across Little Traverse Bay, this meandering drive also encounters an enclave known as the Tunnel of Trees, as well as Wilderness State Park, which offers plenty of hunting, fishing, hiking, and water sports. More information about scenic roads in Michigan is available on this America's Byways: Michigan page.
Michigan Road Travel Resources
For more information about Michigan's roads and transportation infrastructure, visit the Michigan Department of Transportation website. For Michigan road traffic conditions, visit the Federal Highway Administration's Michigan Traffic Information page.
---
Copyright © 2005-2023 State-Maps.org. All rights reserved.
Michigan-Map.org is a State Maps reference source.

Michigan Road Map
Michigan Travel Map - MI Highway Map